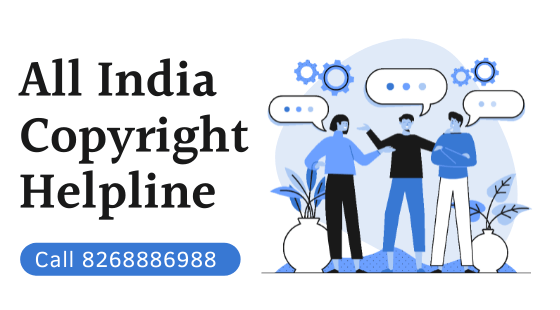 Contact For Copyright Registration
Experienced & Registered Copyright Registration Attorneys and Lawyers
100% Online Copyright Registration
Empanelled Facilitator with Govt of India's Startups Intellectual Property Protection (SIPP) initiative
Get Copyright Registration Diary Number in an hour. Guaranteed!
Free IP and Legal Consultation for Start Ups
Skype and Google Duo Support-Virtual Meeting with Attorney
Dedicated Copyright Registration Line
Copyright Registration FAQs
What is Copyright Registration?
Copyright is a right given by the law to creators of literary, dramatic, softwares, musical and artistic works and producers of cinematograph films and sound recordings. In fact, it is a bundle of rights including, inter alia, rights of reproduction, communication to the public, adaptation and translation of the work. There could be slight variations in the composition of the rights depending on the work. Copyright ensures certain minimum safeguards of the rights of authors over their creations, thereby protecting and rewarding creativity. Creativity being the keystone of progress, no civilized society can afford to ignore the basic requirement of encouraging the same. Economic and social development of a society is dependent on creativity. The protection provided by copyright to the efforts of writers, artists, designers, dramatists, musicians, architects and producers of sound recordings, cinematograph films and computer software, creates an atmosphere conducive to creativity, which induces them to create more and motivates others to create.
Can I Register Mobile Application?
An App is a complete, self-contained computer program that is designed to perform specific tasks. Usually called 'Apps' for short, application programs are the most familiar forms of software and come in a very wide variety of types. An App usually has primarily dynamic content and is designed for user interaction. It may be used directly or indirectly in a computer or hand held electronic device. An App may be registered as a computer program under literary works as provided under Section 2(o) of the Copyright Act, 1957. For this purpose applicant is required to submit an application for registration under software category, accompanied by the source and object code as provided under Rule 70 (5) of the Copyright Rules 2013. It is important to note that the registration will cover any screen displays generated by that program, provided that the computer program (code) generating the screen display is submitted by the applicant. Mere snapshots of screen displays of an app are not eligible for copyright protection.
Can a website be Copyrighted?
A website may be understood as a webpage or set of interconnected webpages, hosted or stored on a server, and is made available online to members of public. Users can access the information and other underlying work on a website through various means such as scrolling webpages, using internal hypertext links or a search feature. Website usually consists of different rudiments which may be copyrightable subject matter that falls within any one of the classes of works set forth in Section 13 of Copyright Act, 1957. The component parts of website can be in different form of digital files such as text, tables, computer programmes, compilations including computer databases ("literary works"); photographs, paintings, diagram, map, chart or plan ("artistic works"); works consisting of music and including graphical notation of such work ("musical works"); "sound recordings" and "cinematograph films". Website as a whole is not subject to copyright protection.
Generally, non-copyrightable content particular to websites may include but are not limited to ideas or future plans of websites, functional elements of websites, unclaimable material, layout and format or 'look and feel' of a website or its webpage; or other common, unoriginal material such as names, icons or familiar symbols. Applicant is required to submit a separate application for each component work/content appearing on a website.
Can Copyright Registration be done for unpublished works?
Yes. Both published and unpublished works can be registered. Copyright in works published before 21st January, 1958, i.e., before the Copyright Act, 1957 came in force, can also be registered, provided the works still enjoy copyright. Two copies of published or unpublished work may be sent along with the application. If the work to be registered is unpublished, a copy of the manuscript has to be sent along with the application for affixing the stamp of the Copyright Office in proof of the work having been registered. One copy of the same duly stamped will be returned, while the other will be retained, as far as possible, in the Copyright Office for record and will be kept confidential. It would also be open to the applicant to send only extracts from the unpublished work instead of the whole manuscript and ask for the return of the extracts after being stamped with the seal of the Copyright Office. When a work has been registered as unpublished and subsequently it is published, the applicant may apply for changes in particulars entered in the Register of Copyright in Form XV with prescribed fee. The process of registration and fee for registration of copyright is same.
Whether computer Software or Computer Programme can be registered?
Yes. Computer Software or programme can be registered as a 'literary work'. As per Section 2 (o) of the Copyright Act, 1957 "literary work" includes computer programmes, tables and compilations, including computer databases. 'Source Code' and "Object Code" have also to be supplied along with the application for registration of copyright for software products.
Does Copyright Registration apply to titles and names?
Copyright does not ordinarily protect titles by themselves or names, short word combinations, slogans, short phrases, methods, plots or factual information. Copyright does not protect ideas or concepts. To get the protection of copyright a work must be original.
Time required to get copyright registration certificate?
Your claim on copyright starts the moment it is created, in case of no objection / opposition registry generally issues certificate in 6-7 months.
In India, Copyright Registration is done and protected under Copy Right Act, 1957, and Copy Right Registry, Delhi is the only Government body constituted under the Act, which issues Copyright Registration Certificate throughout India. Indian Copy Right Act has provision to prosecute a person both civil as well as criminally when found guilty. Creator of the registered work can claim compensation for infringement along with any commercial losses incurred due to the infringement. You can check complete workflow of Copyright Registration application by visiting Copy Right Registry.
In case of any Copyright Registration query you can contact us.